A new and shocking report by the Endangered Species International (ESI) reveals that over 300 gorillas are killed and sold for meat annually at Pointe Noire in the Republic of the Congo.  Using undercover methods at key markets in the city of Pointe Noire in 2008 and early 2009, ESI found that 95 percent of the illegal bushmeat sold originates from the Kouilou region about 100-150 km northwest to Pointe Noire where primary and unprotected rainforest still remains. The Kouilou region is one the last reservoirs of biodiversity and endangered animals in the area.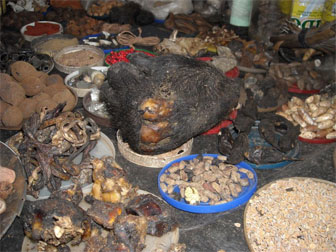 Gorilla meat is sold in the form of smoked meat already cut in pieces. A piece of hand size smoked gorilla is usually sold for 2,500 CFA (6 USD).
Other wildlife species sold in the local markets include mandrill, African rock python, spotted hyaena, great blue turaco, Nile monitor, and black-and-white-casqued hornbill.
Help us to stop the illegal trade in gorillas, make a donation today to support the year of the gorilla.